Ingredients:
---> 2 Celery Ribs
---> 1 cup of fresh or frozen grapes (green or red)
---> 5 leaves fresh basil (or mint or parsley)
---> 1/2 cup of water

Claims of this smoothie:
---> This smoothie will help with anything that you may be experiencing like arthritis, diabetes, and heart disease , this smoothie will bring down the inflammatory levels with your body.
---> Over time of using this smoothie can bring down these inflamed spots within your body as a natural and holistic way instead of pills to bring the inflamed places down.

Powered by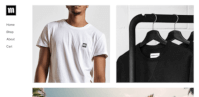 Create your own unique website with customizable templates.